This is a sponsored post written by me on behalf of Panda Express. All opinions are 100% mine.
The Panda Shoots and Scores
Just in time for your next March Madness viewing party, Panda Express has introduced Chinese Spare Ribs to its menu. These Chinese Spare Ribs are slow cooked for five (5) hours with sesame oil, red chili bean paste, garlic, mirin (a sweet rice wine) and red peppers for a one-of-a-kind flavor that is both boldly Chinese and classically American.
Since 1983, Panda Express has been a family-owned company dedicated to bringing families together at the dining table with delicious, high-quality food. The new Chinese Spare Ribs are perfect for any family gathering or celebration like Uncle Bill's 50th birthday party or entertaining your neighbors and friends for the next big basketball game. The sweet, spicy and savory goodness and fall-off-the-bone tenderness of Panda Express Chinese Spare Ribs will satisfy kids and adults alike.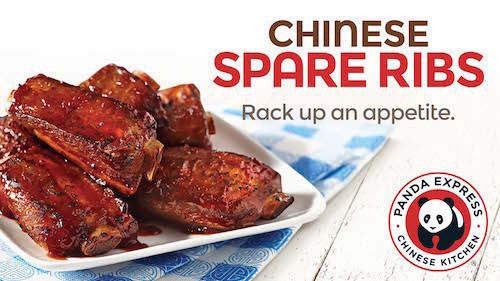 East Meets West On Your Tongue
This is the kind of casual, contemporary Chinese dish that is uniquely Panda Express. Inspired by authentic Chinese BBQ flavors, these Chinese Spare Ribs are premium, high-quality ribs conceived in the Panda Express kitchens by Chef Andy Kao, a 30-year veteran who leads the Panda Express culinary team. In this dish, Chef Kao brings together American slow cooked St. Louis-style spare ribs with Char Siu, a traditional Chinese barbecued pork.
Available only for a limited time, it's easy to Order Online from Panda Express and enjoy these authentic Chinese BBQ flavors at home with your entire family. Learn more about Panda Express Chinese Spare Ribs, and other menu items, by visiting Panda Express on Facebook, Twitter or Instagram.
chī hǎo hē hǎo 
This literally translates as "eat well and drink well" but it actually means "enjoy your meal." When you bring Panda Express Chinese Spare Ribs to your next family gathering, you're guaranteed to enjoy your meal and the company!